About Business Incubation Center
Introduction

The Business Incubator Center at National Taiwan University of Science and Technology (NTUST) was established in 1998. It is designed to help the economy revive through innovative business and technological developments.
The purpose of the BIC at NTUST is to offer facilities and services to help entrepreneurs and small and medium-sized businesses developing advanced technologies and new business bases. Hopefully, with all these efforts, economic development in Taiwan will move into a higher level.
National Taiwan University of Science and Technology (NTUST) is the first higher education institution of its kind within our nation's technical and vocational education system. By extended this system to the highest level, the school was intended to meet the need created by our rapid economic and industrial development for highly trained engineers and managers. It has long maintained a close relationship with industries. Capitalizing on the advantages provided by its access to academic resources and practical experiences offered by industries, NTUST is in an excellent position to set up an incubator center to help the development and growth of business ventures and entrepreneurs.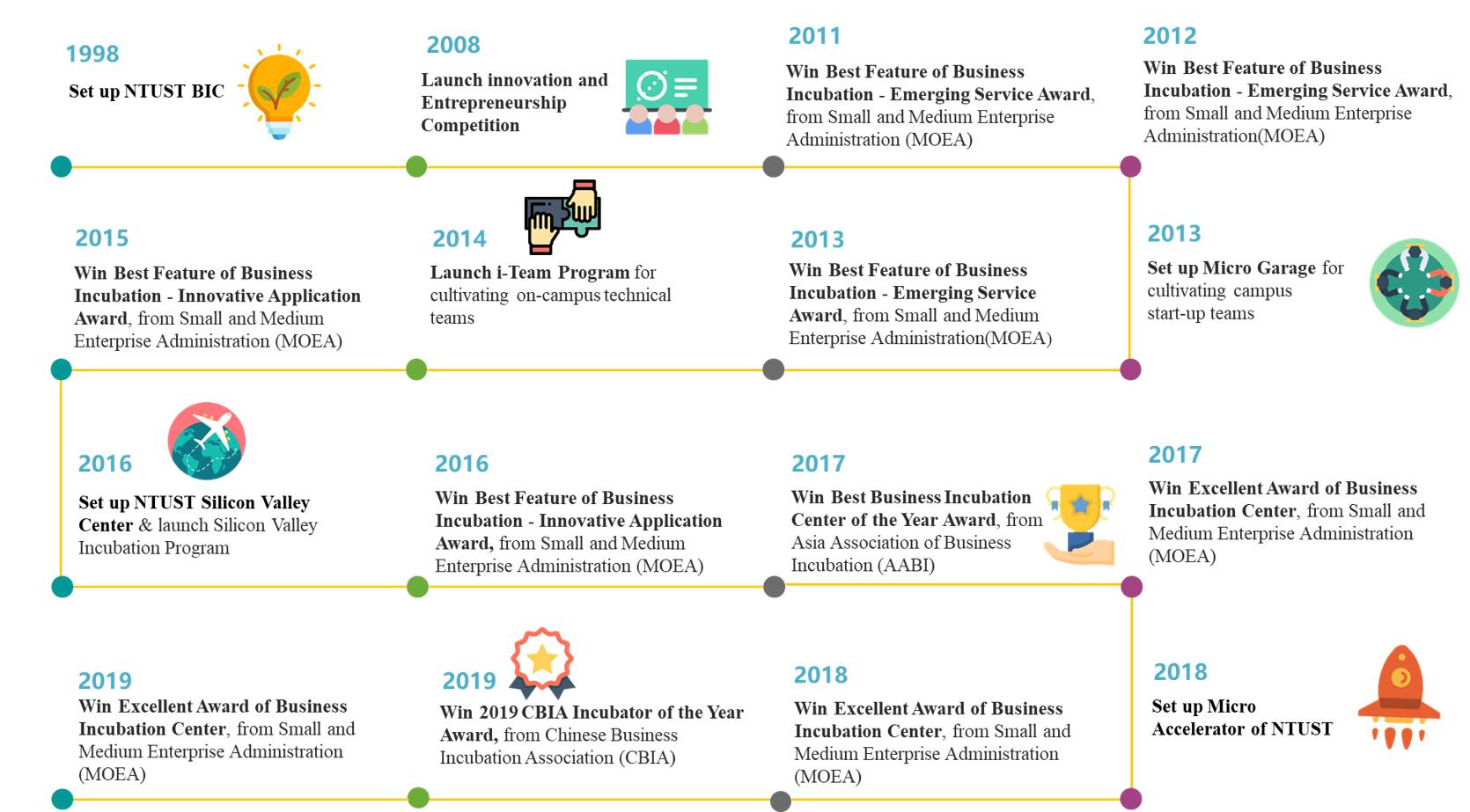 Mission

To assist start-up firms to successfully enter a business – with the goal of achieving stability, growth, prosperity and excellence.
To promote the development & application of innovative technology & products.
Scope of Incubation

Information, communication, and consuming electronics
Precision mechanical engineering and electric automotive industries
Construction related technology
Chemical engineering, partcial materials, textile and polymer engineering
Other technology related to NTUST
Service Items

Provide physical space and equipment support: Incubation room, laboratory, experiment equipment, display room, leisure facilities, conference room, restaurant, transportation, parking lot.
General commercial support: Administration, office services, telephone, fax machine and copy machine.
Professional commercial service: Advisory and consulting services on law, patent, intellectual property rights, accounting, funding, technology & commerce, and computer information networks. Industrial and market information is provided through libraries and computer networks.
Management services: Provide consulting services on product advertisement and marketing strategy, leasing of equipment & space, management training program, and human resources information.
Resources support by NTUST and the local area

Encouraging cooperation between the university existing labs and firms that entered into the Incubator Center; providing software & hardware equipment at all sorts of laboratories to support these businesses.
Recruiting college students to provide manpower to the businesses at the Incubator Center.
Providing diversified professional services by signing support agreements with other academic institutions and professional organizations at Taipei.
---
Liaison

Director : Chien-Ping Chung
Senior Project Manager : Nancy Hong
Address : Business Incubation Center, National Taiwan University of Science and Technology,43 Keelung Rd., Sec. 4, Taipei, Taiwan 106, ROC.
Tel : Campus +886-2-2737-6944
Fax : 886-2-2730-3666
E-mail : i-center@mail.ntust.edu.tw