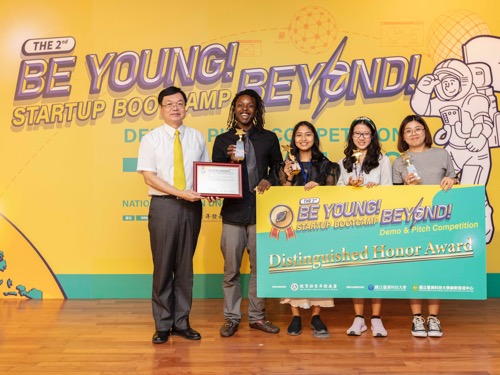 Taipei, July 27 (CNA) Four students from the United States, Taiwan, Vietnam and the Philippines won the top prize at a student entrepreneurial pitch competition for tertiary students hosted by National Taiwan University of Science and Technology (NTUST) on Saturday in the country's capital.
The competition was part of "The 2nd Be Young! Beyond! Startup Bootcamp," hosted by NTUST July 21-28, requiring student teams to make an entrepreneurial pitch in front of a jury, which chooses the best team in terms of innovation, creativity, facilitation and business plan.
On this occasion teams were asked to make a pitch on the subject of changing society in order to promote quality of life through innovation and motivating future industrial development through action, according to the event's website.
The competition involved an eight minute pitch followed by an 11 minute Q&A session. There were a total of 15 teams comprising 59 students from universities in New Southbound Policy (NSP) target countries, foreign students in Taiwan and Taiwanese students.
Initiated by President Tsai Ing-wen (蔡英文) in 2016, the NSP aims to strengthen Taiwan's ties with the 10 member states of the Association of Southeast Asian Nations, along with Australia, New Zealand, India and other South Asian nations.
The four students from Team 8 who won the Distinguished Honor Award for a pitch titled "LOFI Language Leaning" were Jasmine Liao from Taiwan's Feng Chia University, Nguyen Khanh Vy from the University of Economics in Vietnam, Deborah Argayosa from the University of the Philippines Diliman and Miles Iton from the U.S, but currently studying at Chang Gung University in Tainan.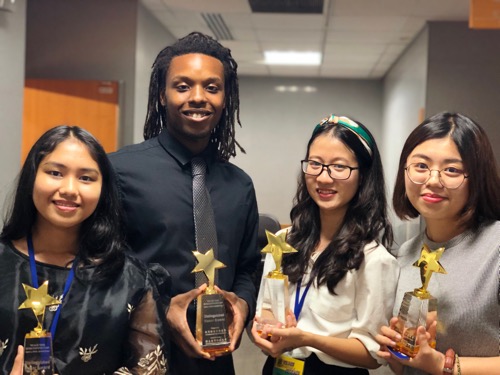 Their pitch showed how hip hop could be integrated into language learning to encourage more people to learn English, Iton said.
"LOFI English learning is all about bringing the joy and experience of hip hop to the education classroom. We teach English using a hip hop curriculum, which helps students build speaking confidence and helps them find their flow," Iton said.
The three groups that won the excellence awards were Team 4 for their pitch "Bravo" on helping international travelers look for Halal food in Taiwan, Team 3 for their pitch "Fungus Fighter" on fungus control, and Team 6's "Foodie" for delivering provincial cuisine to migrant workers or communities living or working in big cities in India.
"The 2nd Be Young! Beyond! Startup Bootcamp," also included workshops and seminars where entrepreneurs and industry leaders shared their experience with students, in addition to mentoring sessions to help the students develop their pitch.
Tony Yu (余東洺), a mentor in the bootcamp and a partner at venture capitalist company Mesh Ventures, said one of the challenges faced by the students from different nationalities was a language barrier because not everyone was a native speaker of English, which was the program's language of instruction.
Despite the language barrier, Yu still commended the students for their work, especially Taiwanese students who were relatively quiet but excelled in terms of quality of work and time keeping.
Although they are shy, Taiwanese students are very good at delivering whatever task they get assigned, he said. "They tend to deliver in terms of quality and schedule, even though they don't speak much, but they do the work."
He mentored a total of three four-student groups made up of 12 students with six from Taiwan, three from Thailand, two from Indonesia, and one from India, Yu said.
Chang Chia-yu (張䕒育), head of the Planning and Career Consultant Division under the Ministry of Education's Youth Development Administration, said the program is part of the ministry's initiative to promote talent and exchanges between Taiwan and NSP target countries.
"We hope to use these programs to deepen the ties and exchanges between young Taiwanese and youth in NSP target countries," she said. "We hope the networks and exchanges built up from these events can further develop into resources to compliment things such as business opportunities."
Chiu Huang-jen (邱煌仁), dean of NTUST's Office of Industry-Academia Collaboration, said a total of 59 students from 10 countries took part in the program with one from the U.S., one from Honduras, four from India, 11 from Indonesia, two from Malaysia, one from Paraguay, five from Philippines, 25 from Taiwan, eight from Thailand, and one from Vietnam.

---